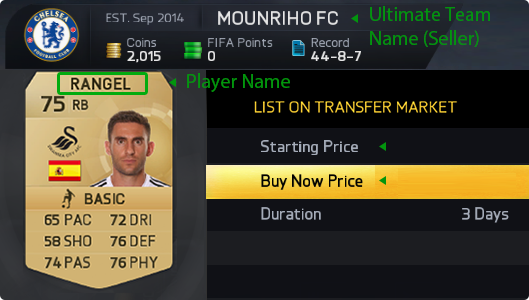 Pls write down player name Ultimate Team Name and Buy Now Price in the Extra Information
or you can take a screenshort of your player and upload to http://imgur.com/ and give me the picture url
Tips :
1.Please set the Auction Duration for 3 Days.
2.Choose Bronze Player Level will speed up the Delivery 100%.
3.Do not auction the two of the same players,otherwise the order can not be completed.
4.The 5% transaction fee that is charged by EA is to be borne by you.


If you do not know how to auction player and what is the Ultimate Team Name,please check this instructions.

1. Choose a player from your squad
2. Put the player on the transfer list
3. Click on "Available objects" in the transfer list and choose the player
4. The starting price is freely selectable (default is 150)
5. Set the buy now price to the number of coins you want to order:
6. Adjust the transfer duration to 3 days
7. Click on offer
The player is now on the transfer list in the "current transfers"
bladeandsoul007.com is no.1 blade and soul gold seller,trade by cross server dungeon lobby or auction house or face to face trade,never get banned.